About Us
Want Want is a Chinese takeaway in Reading. Why don't you try our Chicken with Broccoli or Chicken & Sweetcorn Soup?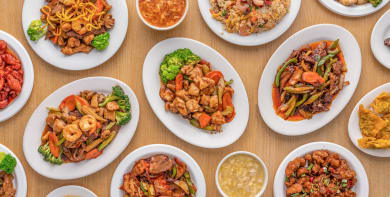 Reviews
60 reviews
Elizabeth
"Tasty food which was delivered on time. Impossible to rate restaurant service as ours was delivered...!"
04/07/2020
Ali
"We were so impressed with Want Want. The ordering system was really easy and the food arrived at 6pm. The food was piping hot and delicious. The portions were really generous! Thank you!"
03/07/2020
Pramila
"Just got take away. Not used restaurant service. Good value for money. Thank you"
27/06/2020
Michael
"Excellent"
27/06/2020
Menu
Spanish Omelette with Chips
Shrimp, chicken & roast pork
£5.70
Shrimp Omelette with Chips
£5.50
Chicken Omelette with Chips
£5.50
Roast Pork Omelette with Chips
£5.50
King Prawn Omelette with Chips
£6.70
Mushroom Omelette with Chips
Vegetarian
£5.20
Plain Omelette with Chips
Vegetarian
£5.20
Special Set Dinner A For 1
Beef with green pepper in black bean sauce (spicy)
Crispy spring roll
Egg fried rice
Prawn crackers
£9.60
Special Set Dinner B For 1
Sweet & sour pork (Hong Kong style)
Chicken with mixed vegetables
Egg fried rice
Prawn crackers
£12.40
Special Set Dinner C For 2
Sweet & sour pork (Hong Kong style)
Beef with ginger & spring onions
Chicken satay
Egg fried rice
Prawn crackers
£17.80
Special Set Dinner D For 2
Vegetarian spring rolls (2)
Sesame prawn toast
Beef with mixed vegetables
Roast pork with green peppers in black bean sauce (spicy)
Chicken foo young
Egg fried rice (serves 2)
Prawn crackers
£24.50
Special Set Dinner E For 3
Crispy spring rolls (3)
Spare ribs with BBQ sauce
Beef with green peppers in black bean sauce (spicy)
Chicken with mixed vegetables
King prawn with mushrooms
Sweet & sour chicken balls
Egg fried rice (serves 3)
Prawn crackers
£34.60
Special Set Dinner F For 4
Special mixed hot appetisers
Half crispy aromatic duck
Sweet & sour king prawns (Hong Kong style)
Beef with green peppers in black bean sauce (spicy)
Chicken with lemon sauce
Stir fried mixed vegetables
Yeung chow fried rice (serves 4)
Prawn crackers
£46.80
Special Vegetarian Set Dinner G For 4
Crispy vegetarian spring rolls (2)
Crispy seaweed with cashew nuts
Aubergine with green peppers in black bean sauce (spicy)
Vegetable foo young
Mixed vegetables with garlic sauce
Vegetable fried rice (large)
£18.80
Crab Meat & Sweetcorn Soup
£3.10
Vegetable Hot & Sour Soup
Vegetarian
Spicy
£2.80
Roast Pork with English Mushrooms
£5.60
Roast Pork Chinese Style
With bean sprouts
£5.60
Roast Pork with Green Pepper in Black Bean Sauce
Spicy
£5.60
Roast Pork with Chilli Sauce
Spicy
£5.60
Four Seasons
King prawns, roast pork, roast duck, chicken & vegetables
£6.10
Chicken with Oyster Sauce
£5.70
Chicken with Mandarin Sauce
£5.70
Deep Fried King Prawn with Garlic Sauce
£6.10
Deep Fried Chicken with Garlic Sauce
£5.70
Grilled Chicken Peking Style
£5.70
Beef Brisket with Vegetables
£6.60
Crispy Chilli King Prawn (Hot)
Spicy
£6.70
Crispy Chilli Chicken (Hot)
Spicy
£5.70
Crispy Chilli Beef (Hot)
Deep fried beef
Spicy
£6.40
Special Thai Chicken (Hot)
Crispy chicken in Thai hot & sweet sauce
Spicy
£5.60
Special Thai Squid (Hot)
Crispy squid in Thai hot & sweet sauce
Spicy
£6.50
Special Chilli Chicken (Hot)
Spicy
£6.50
Special Chilli Duck (Hot)
Spicy
£6.50
Special Chilli Squid (Hot)
Spicy
£6.50
Belly Pork in Chilli Sauce (Hot)
Spicy
£6.50
Sea Spicy Aubergine (Hot)
Spicy
£6.00
Sea Spicy Bean Curd (Hot)
Spicy
£6.50
Roast Duck with English Mushrooms
£6.50
Roast Duck Chinese Style
With bean sprouts
£6.50
Roast Duck with Green Pepper in Black Bean Sauce
Spicy
£6.60
Roast Duck with Plum Sauce
With pineapple
£6.50
Roast Duck with Orange Sauce
£6.50
Szechuan Roast Duck
Spicy
£6.50
Roast Duck with Two Types of Mushrooms
£6.50
Tokyo Special (Large)
King prawns, chicken, beef & roast pork
Extra spicy
£6.70
Japanese House Special Curry
Spicy
£5.90
Japanese King Prawn Curry
Spicy
£7.00
Japanese Chicken Curry
Spicy
£5.70
Japanese Beef Curry
Spicy
£5.70
Japanese Shrimp Curry
Spicy
£5.70
Japanese Roast Pork Curry
Spicy
£5.70
King Prawn with Mongolian Sauce
£6.90
Chicken with Mongolian Sauce
£5.70
Beef with Mongolian Sauce
£5.70
Special Green Curry
King prawns, chicken, beef & roast pork
Spicy
£6.00
Chicken Green Curry
Spicy
£5.50
King Prawn Green Curry
Spicy
£6.90
Roast Pork Green Curry
Spicy
£5.50
Bangkok Special Green Curry (Large)
King prawns, chicken, beef & roast pork
Extra spicy
£6.30
Special Red Curry
King prawns, chicken, beef & roast pork
Spicy
£6.00
King Prawn Red Curry
Spicy
£6.90
Roast Pork Red Curry
Spicy
£5.50
Bangkok Special Red Curry (Large)
King prawns, chicken, beef & roast pork
Extra spicy
£6.30
Pineapple Fritter with Syrup
£2.80
Banana Fritter with Syrup
£2.80
Chicken with Mixed Vegetables
£5.60
Chicken with English Mushrooms
£5.60
Chicken Chinese Style
With bean sprouts
£5.60
Chicken with Ginger & Spring Onions
£5.60
Chicken with Green Pepper in Black Bean Sauce
Spicy
£5.80
Chicken in San Sauce
Creamy Cantonese style with sauce
£5.60
Kung Po Chilli Chicken
Cooked in lightly sweet & sour with dried chilli
Spicy
£5.70
Chicken with Black Pepper
Spicy
£5.70
Chicken with Two Types of Mushrooms
£5.70
Squid with Ginger & Spring Onions
£7.10
Squid with Green Pepper in Black Bean Sauce
Spicy
£7.10
Mussel with Ginger & Spring Onions
£6.60
Mussel with Green Pepper in Black Bean Sauce
Spicy
£6.60
Mix Seafood with Vegetables
£6.60
King Prawn with English Mushrooms
£6.80
King Prawn with Ginger & Spring Onions
£6.80
King Prawn with Green Pepper in Black Bean Sauce
Spicy
£6.80
King Prawn with Pineapple
£6.80
King Prawn with Mixed Vegetables
£6.80
Beef with Mixed Vegetables
£5.60
Beef with English Mushrooms
£5.60
Beef Chicken Style
With bean sprouts
£5.60
Beef with Ginger & Spring Onions
£5.60
Beef with Green Pepper in Black Bean Sauce
Spicy
£5.60
Beef with Black Pepper
Spicy
£5.70
Beef with Two Types of Mushrooms
£5.70
Want Want Chop Suey
Mixed meats & vegetables in sauce
£5.60
Mushroom Chop Suey
Vegetarian
£4.80
Vegetable Chop Suey
Vegetarian
£4.80
Crispy Vegetarian Aromatic Duck
Served with spring onion, cucumber, plum sauce & pancakes
Vegetarian
£7.70
Mixed Vegetables with Cashew Nuts
Vegetarian
£4.70
Mixed Vegetables with Garlic Sauce
Vegetarian
£4.70
Mixed Vegetables with Black Bean Sauce
Spicy
Vegetarian
£4.70
Mixed Vegetables with Satay Sauce
Vegetarian
£4.70
Mixed Vegetables with Sweet & Sour Sauce
Vegetarian
£4.70
Mixed Vegetables with Szechuan Chilli Sauce
Spicy
Vegetarian
£4.70
Mushroom with Black Bean Sauce
Spicy
Vegetarian
£4.70
Bean Curd with Vegetables in Black Bean Sauce
Spicy
Vegetarian
£5.20
Bean Curd with Vegetables in Satay Sauce
Vegetarian
£5.20
Bean Curd with Vegetables in Oyster Sauce
Vegetarian
£5.20
Bean Curd with Vegetables in Szechuan Sauce
Spicy
Vegetarian
£5.20
Aubergine with Mixed Vegetables
Vegetarian
£5.20
Aubergine with Green Pepper in Black Bean Sauce
Spicy
Vegetarian
£5.20
Scrambled Egg with Tomatoes
Vegetarian
£5.00
Chinese Leaf with Garlic Sauce
Vegetarian
£5.70
Sweet & Sour King Prawn Balls
£6.90
Sweet & Sour Chicken Balls
£5.50
Bamboo Shoot & Water Chestnuts
Vegetarian
£3.20
Sweet & Sour Sauce
Vegetarian
£1.80
Curry Sauce
Spicy
Vegetarian
£1.80
Thai Chilli Sauce
Spicy
Vegetarian
£1.80
Salt & Pepper Chips
Spicy
Vegetarian
£3.70
Want Want House Special Chow Mein
King prawns, chicken, roast pork, beef & vegetables
£7.10
Mixed Seafood Chow Mein
Squid, king prawn, mussels & vegetables
£8.00
Singapore Rice Noodle
Spicy
£5.70
Singapore Chow Mein
Roast pork, shrimp & egg
Spicy
£5.60
Vegetarian Singapore Rice Noodle
Vegetarian
Spicy
£5.60
Mushroom Chow Mein
Vegetarian
£4.90
Mixed Vegetable Chow Mein
Vegetarian
£4.80
Chilli Chow Mein with Bean Sprouts (Small)
Spicy
Vegetarian
£4.00
Plain Chow Mein with Bean Sprouts (Small)
Vegetarian
£3.70
Mixed Seafood with Udon Noodke
£7.20
Beef with Udon in Black Bean Sauce
Spicy
£6.40
Want Want House Special Fried Rice
King prawns, chicken, roast pork, beef & vegetables
£7.00
Traditional Special Fried Rice
Yeung chow fried rice mounted with a layer of roast pork & chicken with BBQ sauce on top
£5.90
Mixed Seafood Fried Rice
Squid, king prawn, mussels & vegetables
£7.00
Yeung Chow Fried Rice (Dry)
Shrimp, roast pork & chicken
£5.30
Singapore Fried Rice
Roast pork, shrimp & a touch of curry & chilli
Spicy
£5.50
Nasi Goreng
Indonesian traditional fried rice, chicken & shrimp, spicy
Spicy
£5.50
Pineapple Fried Rice
Vegetarian
£5.00
Mushroom Fried Rice
Vegetarian
£5.00
Mixed Vegetable Fried Rice
Vegetarian
£5.00
Chilli Fried Rice with Onion (Small)
Spicy
Vegetarian
£3.40
Egg Fried Rice (Small)
Vegetarian
£2.80
Boiled Rice (Small)
Vegetarian
£2.50
3 in 1
Chips, egg fried rice & curry sauce in a tray
£4.00
Special Malaysian Satay
King prawns, chicken, beef & roast pork
£6.10
King Prawn Malaysian Satay
£6.90
Special Mixed Hot Appetiser (For 2)
Sesame prawn toast, spare ribs, satay chicken skewers, crispy seaweed, mini spring rolls, sweet & sour sauce
£9.10
Crispy Aromatic Lamb
Served with spring onions, cucumber, plum sauce & pancakes
£9.10
Quarter Crispy Aromatic Duck
£8.90
Half Crispy Aromatic Duck
£17.10
Whole Crispy Aromatic Duck
Served with spring onions, cucumber, plum sauce & pancakes
£32.80
Mini Spring Rolls (6)
Vegetarian
£2.50
Crispy Vegetable Spring Rolls (2)
Vegetarian
£2.10
Crispy Seaweed with Cashew Nuts
Vegetarian
£4.00
Fried King Prawns with Salt & Pepper (Dry)
Spicy
£7.10
Crispy Chicken with Salt & Pepper (Dry)
Spicy
£6.20
Crispy Chicken Wings with Salt & Pepper
Spicy
£5.10
Spare Ribs with Salt & Pepper (Dry)
Spicy
£5.90
Crispy Squid with Salt & Pepper (Dry)
Spicy
£8.10
Fried Bean Curd with Salt & Pepper (Dry)
Spicy
Vegetarian
£5.30
Chicken Wings with BBQ Sauce (8)
£5.10
Spare Ribs with BBQ Sauce
£5.80
Spare Ribs with Sweet & Sour Sauce
£5.80
Spare Ribs with Lemon Sauce
£5.80
Torpedo King Prawns (5)
Japanese style deep fried king prawn served with sweet chilli sauce
£5.30
Satay Chicken Skewers (5)
£6.80
Satay King Prawn Skewers (5)
£7.50
Deep Fried Crab Claws (4)
£4.70
Prawn Crackers
Vegetarian
£2.10
Special Foo Young
Shrimps, chicken & roast pork
£5.60
Mixed Vegetable Foo Young
Vegetarian
£5.00
Mushroom Foo Young
Vegetarian
£5.00
Hot Dragon (Large)
King prawns, chicken, pineapple & vegetables with garlic
Extra spicy
£6.00
Special Curry
King prawns, chicken, beef & roast pork
Spicy
£5.40
Hong Kong Special Curry (Large)
King prawns, roast pork, chicken & beef
Extra spicy
£6.00
Mushroom Curry
Spicy
Vegetarian
£4.30
Mixed Vegetables Curry
Spicy
Vegetarian
£4.30
Contact Us
Find Us
1 The Parade, Brecon Road, Reading, RG54PS
We deliver to
RG1, RG10, RG41, RG5, RG6